If you've been following us for the last few months, you may have noticed we've been expanding our menu of services we refer to include all sorts of home care in addition to our signature Maid Service (see the full list below). Now we've added something new and truly amazing: Deep "FOG" Sanitizing & Antimicrobial Treatment!
The Ultimate Deep Cleaning
Your ENTIRE living space can be TOTALLY sanitized in LESS THAN 30 MINUTES. How? With Deep "FOG" Sanitizing!
This is a remarkable process where the cleaning professional uses a special "electro-static emitter" to put a sanitizing "fog" into the air that penetrates every part of your home or apartment.
Within just a few minutes of dwell time, EVERYTHING in your space will be completely sanitized. All surfaces, walls, carpets & floors, all surfaces, windows and sills… EVERYTHING. It gets into every nook & cranny.
The whole process takes no more than 30 minutes. It's also 100% people and pet-safe, and with ZERO odor. Best of all, it's surprisingly affordable.
It's like the ultimate "deep cleaning"! Since it doesn't remove dust, we recommend a maid cleaning first. And if you're looking to completely sanitize your space — especially if you're at risk for illness, or to clean-up after an illness — there is simply no better, convenient & quick, or affordable solution.
We're Your "One-Stop Shop" for Home Care
Our clients ALWAYS receive special deals and referrals from our "ONE-STOP SHOP" family of home care service providers, including:
Maid Service (our signature service) — weekly, bi-weekly, 3+ times per week, occasional cleanings, move-in/out, or one-time cleanings

Carpet & Upholstery Steam Cleaning

Window Cleaning

Handyman Services

Stainless Steel * Copper * Hard Water Restoration — don't replace it, REPAIR IT!

Stone Care Specialist — knowledge and experience with the maintenance and care of all types of Stone Mediums

Wood Floor Specialist — experts with the care and maintenance of all types of Wood Floors and Finishes

NEW: Deep "FOG" Sanitizing & Antimicrobial Treatment — sanitize your ENTIRE living space in 30 minutes or less!
From Irvine to Glendale, Newport Beach to Long Beach, Mission Viejo to Pasadena and everywhere in between, we've got you covered with expert specialty home care specialists!
New Client Special
Get $40 off your initial house cleaning when you set-up a regular service schedule with us.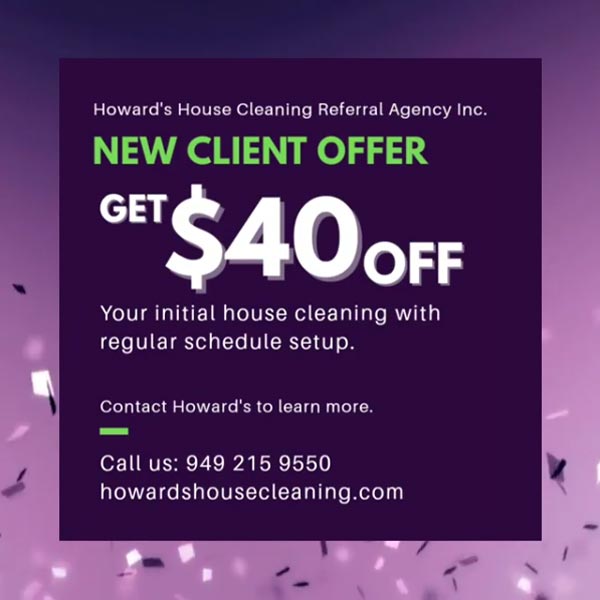 If you're not yet a client, here's a great reason to get started with us on a regular service schedule!
And if you have worked with us in the past, call us to get back on a regular schedule to take advantage of this special offer.
We only refer top-quality home-care professionals and maids (independent domestic workers) that are security-conscious, with wonderful personalities. They know how to get the job done right!