Have you already planned your Christmas cleaning? Howard's is waiting for your call!
Wait? What? It's that time of the year again? Christmas trees, jingle bells and Christmas carols set the mood for festivities; it's the Christmas Season!
We all know that Thanksgiving can be stressful but Christmas preparations can bring a whole new level of stress. From gift buying, to grocery shopping, your energy levels will surely deplete while your home sits there waiting to be touched up.
Do you really want to be stressed and tired by Christmas? Are you willing to forgo the bonding time with your family? Howard's home care one-stop-shop is here to help you out.
Before anything else…Do you need other house cleaning services?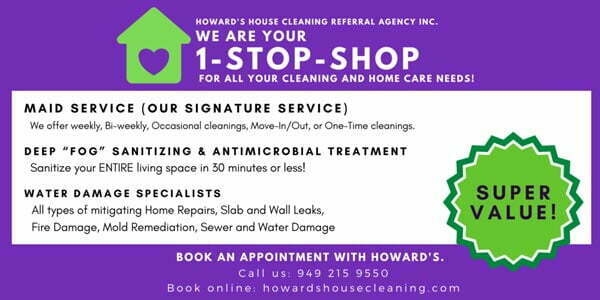 Going back, it seems not too long ago it was the New Year and we were hopeful for what the new year would bring. Then the next moment was a global crisis that shook us to the very core. Nevertheless, Howard's would like to thank each and every one of you for being a part of our family.
Time sure does fly. There are only a few weeks to go before Christmas Day and stress is mounting as there are so many gifts to buy and food to prepare. Some might have thought of last year's Christmas as a lesson in being disorganized, so vowed to never let it get to a point where they become stressed. But as with everything else, time will hamper our plans.
Preparing to host visitors over the holiday season entails paying urgent attention to your home and all of its corners, crevices and commonly used areas. More often than not, a busy schedule will leave these overlooked. This is where the stress starts.
How do we go about reducing the Christmas cleaning stress? With a good schedule of course! A good schedule will not only ensure that the Christmas feast and all the gifts will be prepared but it also means your home will be clean and ready for all the guests! Scheduling chores can be daunting especially if you don't know where to start.
Luckily, Howard's is here to help you prepare your house for the holiday season. We've put together an easy-to-follow guide that'll ready your home from top to bottom, leaving you with more time and less stress!
Three Weeks Before Christmas
The Living room and Common Places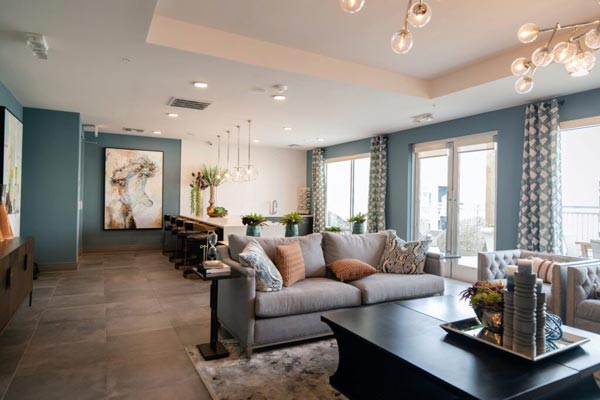 It's a good idea to prepare the living room as this is where most guests will be spending time. Before putting up that Christmas tree in all of its glittering glory, move all carpets and furniture away and start vacuuming the carpet, floors, and surfaces. While you're at it, vacuum or sweep around common places as well.
After this, designate a space for the tree and get to decorating.
Also, it's a good idea to dust off surfaces and if you have a fireplace, it's a good time to clean it too. Preparing a disinfection station in common areas is also a good idea.
Speaking of carpets and floors, we have a service fit for that and more.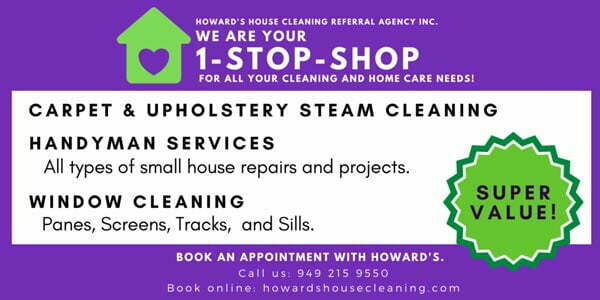 Let's get back to our topic…
Two Weeks Before Christmas
The Kitchen, Cupboards, Utensils and Bathrooms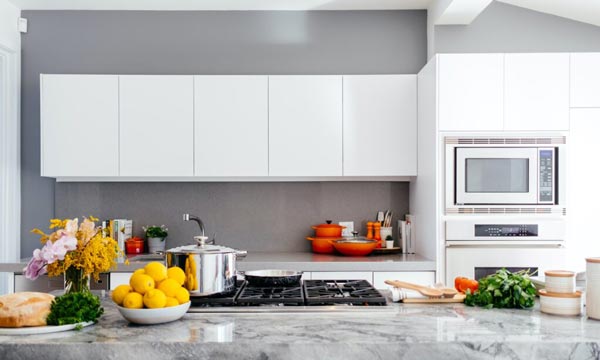 Just before everything gets hectic, prepare the kitchen, utensils, and cupboards in advance. For the kitchen, thoroughly clean the oven and stovetop exhaust range. The range is particularly important as this will help reduce food smells that can stick to surfaces.
The fridge and cupboards also need to have their surfaces wiped down to prepare them for all the food storage.
As for the utensils and china, it's better to prepare the china and other utensils that you plan on using ahead of time to avoid the unnecessary cleaning rush that will result in broken pieces.
Also, clean bathrooms that guests will be using. Pay extra attention to surfaces such as the floors, sink, toilet, and mirrors. If a guest is staying over, cleaning the shower and tub won't hurt.
In need of someone to clean up bathroom and kitchen surfaces? Don't fret. Howard's is here to the rescue.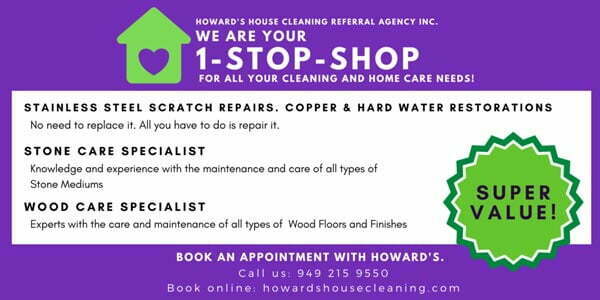 One Week Before Christmas
Guest Bedrooms, Living and Dining Room, Kitchen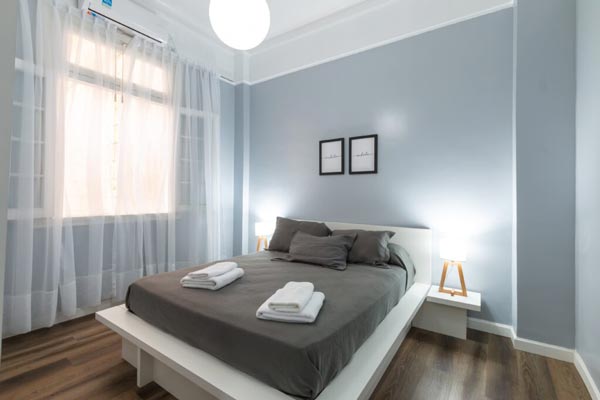 If you've got someone staying over, prepare the guest bedroom's towels, sheets and blankets. Try to have fresh set ready and if not, wash, iron and roll them in advance. It won't hurt to vacuum and dust the room's surfaces as well.
As for the living room, touch up on the surfaces and vacuum any loose pine needles around the tree and the carpets.
For the dining room, prepare the table in advance and ready everything you want to set on the table. Having these prepared allows you to set up the Christmas day table with minimal time required. As for the kitchen, though not a cleaning tip, try to get what you need in advance. Lines will be longer this holiday season.
While Christmas cleaning can stressful and time consuming, preparing your home in advance will certainly help you reduce stress, clear your mind and focus on your loved ones.
We understand that not everyone can handle the holiday cleanup and luckily, Howard's has got you covered. With our flagship Maid Service, you can rest assured that Christmas will be stress and worry free.
We can handle all the pre- and post-Christmas cleaning for you! We can adjust to your needs and schedule requirements as we offer weekly, bi-weekly, 3+ times per week, occasional cleanings, move-in/out, or one-time cleanings. You can also rest assured that you will have a home that is cleaner than ever, as the professional house cleaners we refer take pride in our work.

Proven and Tested by Clients
Donna and Dave are Irvine house cleaning clients for many years. We were able to help them a great deal last Christmas and this what Donna has to say about our service:
"Last Christmas season was hectic. I was working in retail and we were very busy with the Christmas rush. Though my husband was around, he had to work nights so cleaning was out of the question for him. So, I decided to find cleaners. Howard's was the first service I came across and decided to hire them. I couldn't be happier the result! Howard's came to our rescue. I simply gave them a call and they set us up with their cleaning service. I was then able to focus on Christmas preparations and more importantly, I was stress-free and I was able to spend time more time with family and friends. I would rate them 5 out of 5 stars."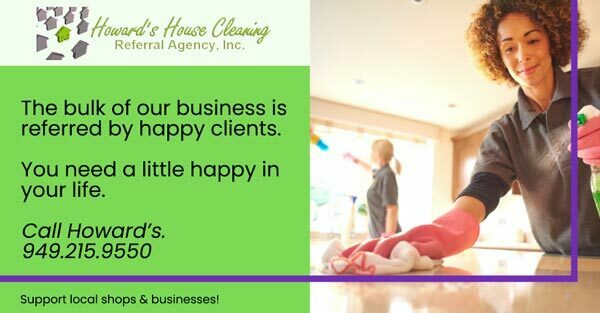 Howard's Spotlight – Window Cleaning Services
Aside from our flagship Maid Services, we also have Window Cleaning Services. We specialize in making your windows look clear and fresh.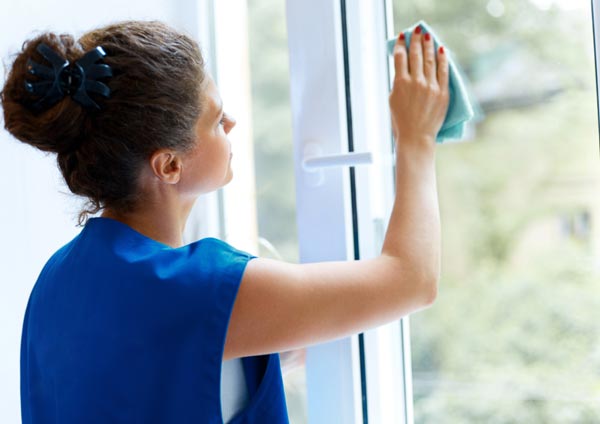 Here at Howard's, we believe that customers should get the best value for their money. Some jobs are best left to the professionals.
Though window cleaning can sound easy, it requires the right expertise and products to ensure that your windows remain clean and serviceable. Not all windows are created equal as there are various types of window materials.
Professionals are needed to make sure that the proper cleaning and maintenance methods are used. Improper window maintenance will lead to scratches, etches, pitting and even worse, breakage.
Fortunately, we believe in cleaning things, not breaking them! Why not give us a call and do your home a favor. Leave it to us to maintain your home.
We're Your "One-Stop Shop" for Cleaning and Home Care Needs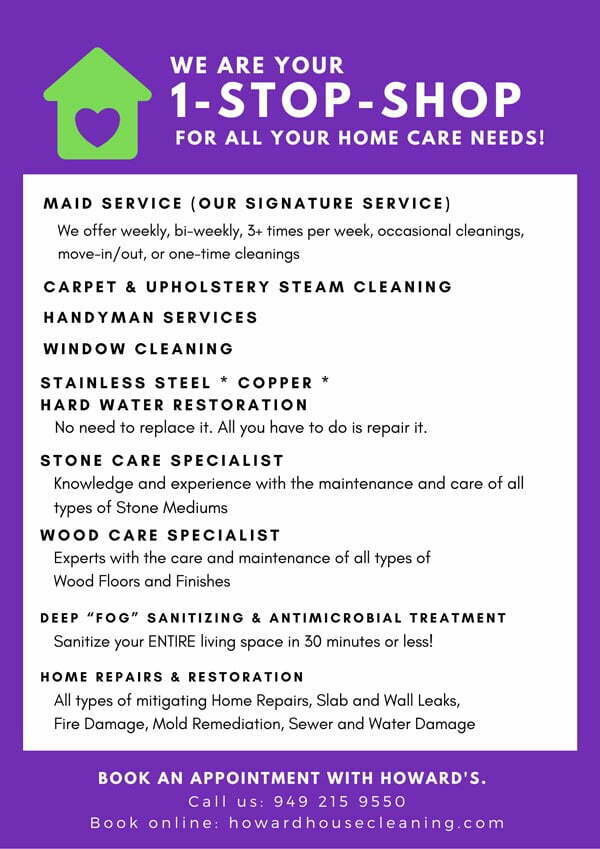 Do you want to know why we are the best in Irvine? See for yourself and book a house cleaning appointment with us. Experience the best house cleaning referral agency in Orange County and L.A County.
The Best Offer Just for You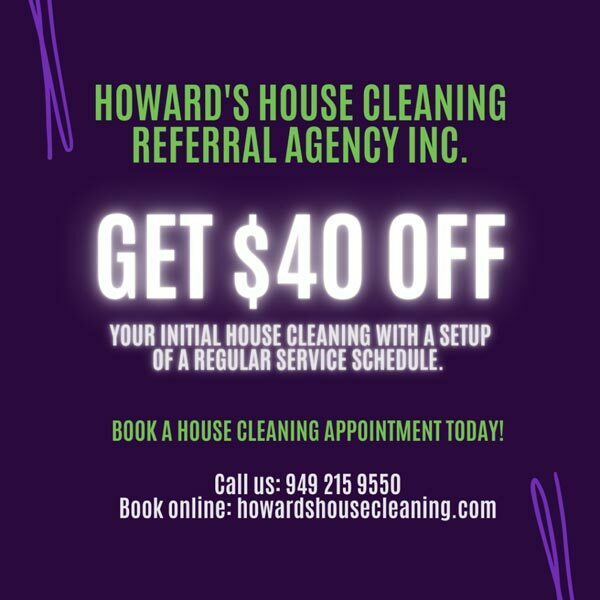 Last but not least, get $40 off your initial house cleaning when you set-up a regular service schedule with us. Call or book a house cleaning with Howard's today and get this great offer! Howard's only refers top-quality home-cleaning professionals and maids (independent domestic workers) that are security-conscious, with wonderful personalities.