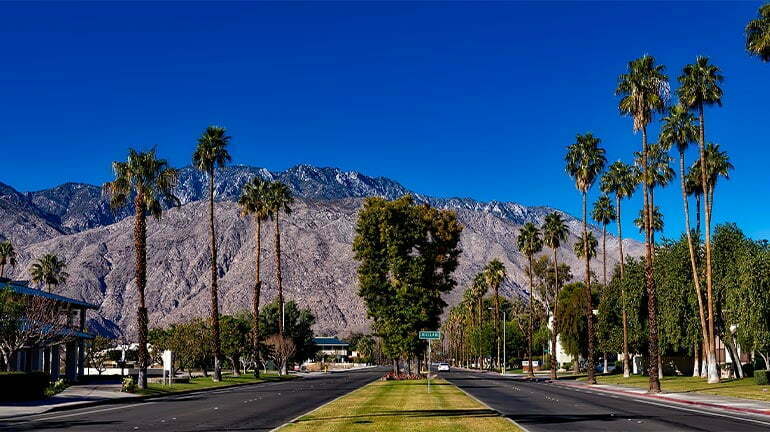 House cleaning in Palm Springs is our business… yours is enjoying life!
Palm Springs… the desert oasis of the stars, where recreation and fashion meet architecture and culture. From The Mesa to Movie Colony neighborhoods to El Rancho Vista to Las Palmas Estates and everywhere else, who doesn't love life in Palm Springs?
But while we know living in Palm Springs is like living the dream, house cleaning in Palm Springs is, well, not at the top of your list of things you love to do!
Of course, you know that keeping a clean home means staying healthy. That's why only the best will do when it comes to cleaning your home or condo.
Introducing Howard's House Cleaning Referral Agency, Inc. We're Southern California's top-rated cleaning referral agency.
We know that residents of Palm Springs expect four things from a cleaning service: flexible and personalized service, reliability, professionalism, and security — and we aim to deliver them all.
We're highly selective when it comes to the cleaning professionals we refer to our clients. Each cleaning team must pass thorough background and reference checks before joining our roster. Next, we carefully assess the skills of each team and then hand-select the perfect team to meet YOUR specific needs.
It's not easy to find professionals of this caliber. That's why we're not the biggest house cleaning agency, but — as our five-star client reviews show — we are the BEST.
The Maids we refer provide a broad range of cleaning services on a schedule that's right for you:
• One-time cleanings. A one-time cleaning is perfect for jobs such as garage clean-outs, whole-house cleanings for move-in or move-out, construction cleanup or cleaning for a special event.
• Bi-weekly cleanings. A bi-weekly cleaning is great for keeping your home or condo well maintained with just some light dusting or spot cleaning between visits. And of course, you can rotate bigger jobs into the schedule as needed if you have a large family or you entertain guests. In any case, we'll refer cleaning professional who will exceed your expectations!
• Weekly cleanings. If you have a large family or you entertain guests often and you don't have time to do some light dusting between bi-weekly cleanings, a weekly scheduled cleaning is ideal. We can even schedule visits on multiple days of the week to rotate between specific areas — like kitchen and bathrooms on Mondays to living and bedrooms plus window cleaning on Thursdays. The frequency of weekly cleanings offsets the intensity of the job, often making for a more efficient option. And if you need a live-in maid, we can arrange that too!
If you need house cleaning services in Palm Springs or Palm Desert, call Howard's House Cleaning Referral Agency, Inc. today — speak with Howard directly at 760-496-9039!
Palm Springs' best source of experienced professional independent maids... Excellence!
Howard's House Cleaning Referral Agency, Inc.
We have been using Howard's Cleaning services for many years. We always have great service and Howard is great!! We just had all of our tile and carpet taken out of our first floor and high-end LVP put in. Howard recommended a Deep clean team come in. They were here yesterday and did a phenomenal job. A+ Thank you Howard!!! Judi
My schedule is always changing, but somehow my cleaner comes and does the job for me. Very hard-working, and conscientious, she finds new products and methods - always striving to do a super job. I appreciate her enthusiasm!
I had booked a move-out cleaning through another service and they canceled my appointment at the last minute. I called at least 50 cleaning services and Howard's came through for me with a same-day appointment. The team arrived on time, finished the deep cleaning in record time, and did such an amazing job! I can't believe how clean the house is -- cleaner than when I moved in, for sure. They even cleaned windows and fireplaces though this was not necessary. Communication regarding the booking was EXCELLENT and thorough. I cannot recommend this service highly enough!