Yes, although our business is housecleaning and home care services, we're pretty handy in the kitchen, so we're eager to share our top three easy and delicious recipes that will surely be the star of your Christmas. Have you prepared the ingredients for the delicacies you will enjoy for the family dinner? Don't fret, we're here to help!
With the pre-Christmas preparations and housecleaning all sorted out — and hopefully you used our guide, Howard's Ultimate Christmas Cleaning Checklist to make your life easier — it's time to focus on the main stage: Dinner!
Preparing Christmas Eve's main course can be rewarding especially after the look on your loved ones faces after they take that first bite out of your scrumptious cooking.  Let's face it, though cooking is very rewarding, not everyone can cook up a Michelin star meal. 
Before anything else…Do you need other house cleaning services?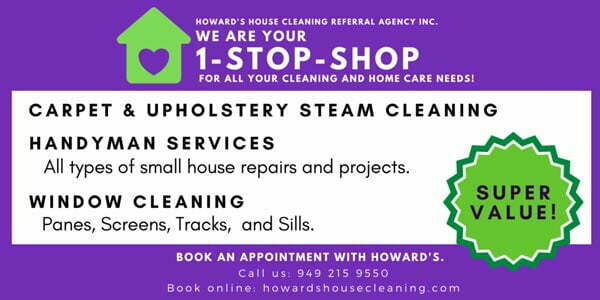 Let's get back to the blog…
The main course is often the source of many holiday chefs' woes as this part can be very intimidating. Other parts of the meal such as the side dishes and other accompanying viands can be easily be prepared or purchased but nothing beats a lovingly prepared main course.
Preparations can be very stressful. Do you really want to be stressed and tired by dinner time? Are you willing to forgo the bonding time with your family this Christmas? Luckily for you Howard's has got you covered with three recipes that are not only delicious but are also very easy to prepare.
Perfect Beef Tenderloin for Christmas Eve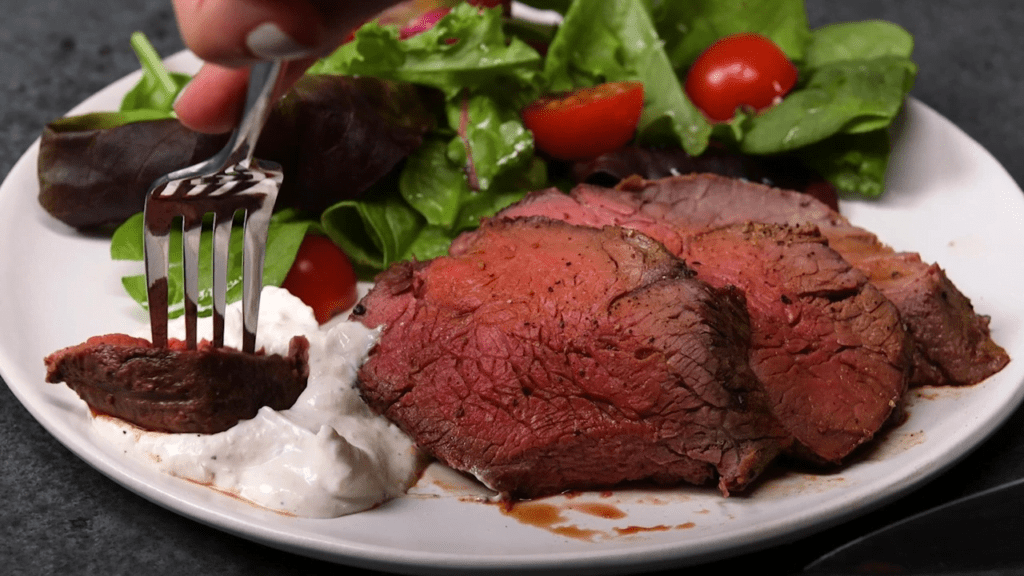 Handling Time: 10 mins
Total cooking time: 50 mins
Things you would need:
1 (5- to 7-lb.) beef tenderloin, trimmed
3 tablespoons butter, softened
5 to 7 tsp. kosher salt
¾ teaspoon cracked black pepper
*Note* When seasoning roasts, 1 tsp. of kosher salt to 1-lb of meat. 5-lb serves around 12 guests.
Dip
1 Cup sour cream¼ Cup mayonnaise
¼ Horseradish
5 tsp. Worcestershire
A pinch of salt and pepper to taste
Directions
Tenderloin
Make sure your oven is clean to avoid bad smells.
Preheat oven to 425°F
Place the tenderloin on a wire rack in pan. Start rubbing the butter all over the tenderloin. Having the butter prepared at room temperature makes this step easier as it will spread faster.
Season the tenderloin with salt and pepper. Cover it evenly.
Roast at 425°F for 25-30 minutes. You can also use a meat thermometer inserted to the thickest part of the meat to measure its internal temperature. Make sure that its internal temperature reaches 135°F for medium rare.
Once cooked, let the meat rest for about 15 minutes before slicing. You can cover the meat loosely with aluminum foil to seal in the juices.
Dip
Start with the sour cream in a bowl.
Mix in mayonnaise, horseradish, and Worcestershire.
Add in a pinch of salt and pepper.
Combine until color is even. Add salt and pepper to taste.
Get more about this recipe here.
All this cooking got your kitchen in a mess? Hey, we've got other home care services that can help you…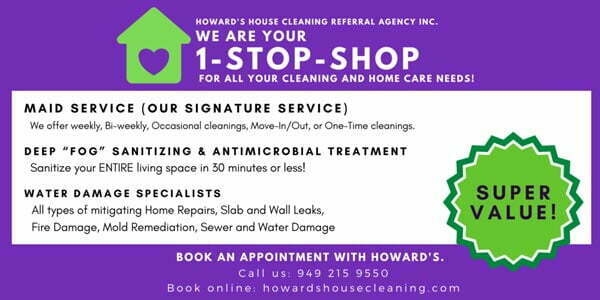 Here are more of our favorite Christmas Dinner dishes…
Roasted Pork Tenderloin with Golden Potatoes and Herb Dressing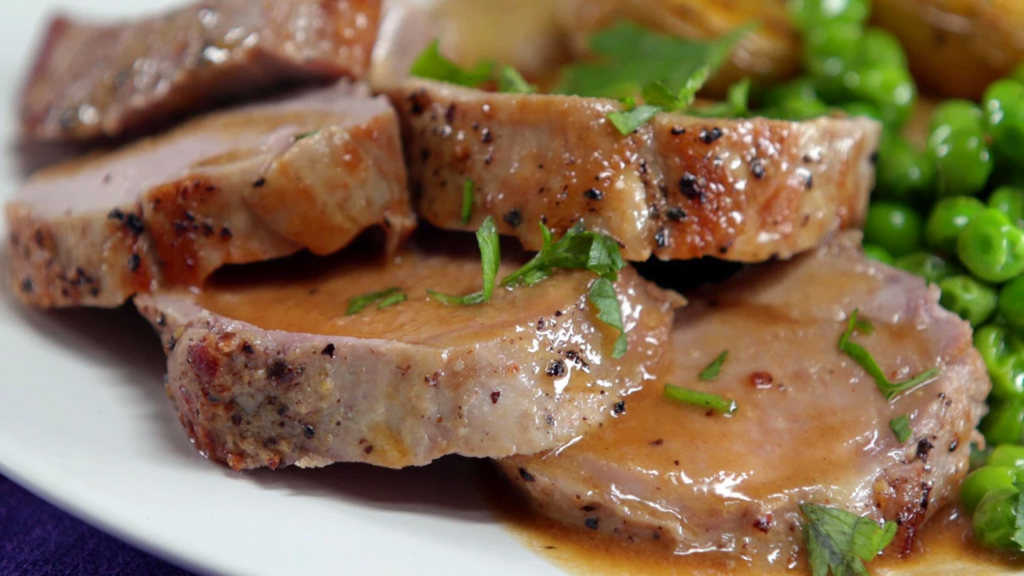 Handling Time: 10 mins
Total cooking time: 50 mins
Things you would need:
1 ½ lbs. beef tenderloin, trimmed
1 ½ teaspoons kosher salt, divided
1 teaspoon black pepper, divided
3 tablespoons extra-virgin olive oil, divided
12 ounces baby Yukon Gold potatoes, halved (about 2 cups)
1 cup frozen English peas, thawed
2 tablespoons white wine vinegar
Directions
Pork Tenderloin
Start with preheating the oven to 400°F.
Season the pork with 3/4 teaspoon each of the salt and pepper. Season evenly to get the maximum taste.
Bring out your large overproof skillet and set it over a medium-high flame then add in 1 tablespoon of olive oil to the skillet.
Once the oil is hot, add the pork to skillet. Cook until the meat is well browned. Flip once ever 4 minutes. Cooking time should be around 8 mins.
Once browned, remove the meat and place it on a plate. Keep the drippings in skillet and then add 1 tablespoon of olive oil.
After that, add in the potatoes and cook over medium-high heat. Cook until the potatoes start to brown. This should take about 3 minutes.
After cooking the potatoes, stir in the remaining 3/4 teaspoon salt and 1/4 teaspoon pepper. Add in the meat then arrange the potatoes around pork.
Place the skillet into the oven and cook for 12 minutes. After cooking, take the skillet out of the oven and add in the peas into skillet, arrange them around the potatoes and then return the skillet into the oven. Roast the meat until the meat thermometer inserted in thickest portion of tenderloin registers 145°F. This takes about 5 minutes.
After cooking transfer the pork on a cutting board and let it rest for 5 minutes. Transfer the potatoes and peas into a serving plate and reserve drippings in skillet.
After that, add vinegar, mustard, and remaining 1 table spoon oil to the skillet then whisk to combine.
Cut the pork into 16 slices then arrange with the peas and potatoes on the plate. Top it with the mixture from skillet and finish the dish off with a sprinkle of minced parsley.
Get more about this recipe here.

Crispy Chicken Thighs with White Wine Butter Sauce and Vegetables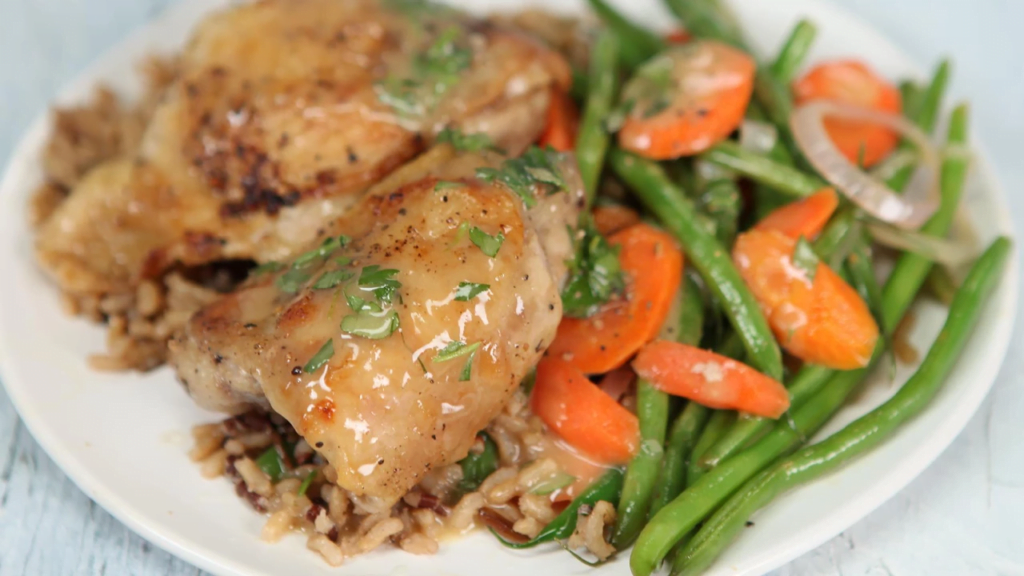 Handling Time: 10 mins
Total cooking time: 50 mins
Things you would need:
6 bone-in skin on chicken thighs2 tablespoons olive oil
2 teaspoon ground paprika
1 teaspoon dried basil
1 teaspoon dried oregano
½ teaspoon garlic powder
½ teaspoon onion powder
½ teaspoon salt
¼ teaspoon black pepper
Directions
Chicken Thighs
Start with preheating the oven to 450°F.
Lightly grease a baking pan or dish, make sure to pick out a pan or dish that will fit all of the chicken.
Place the chicken on the pan skin side up and drizzle the chicken with oil and use a food brush or something similar to coat the chicken skin with oil. This will ensure that we will get that crispy exterior.
Time to make the rub. Mix paprika, basil, oregano, garlic powder, onion powder, salt, and pepper in a small bowl. After that, coat the chicken evenly with rub.
Roast the chicken for 35-40 minutes in the oven or until 165°F internal temperature is reached. Like with out previous recipes, using a meat thermometer will allow you to reach that safe internal temp.
Once internal temp has reached 165°F take out the pan and use a food brush to get some of the drippings and coat the chicken tops. Place the pan inside the oven and use the boiler setting for 1 – 2 minutes to add crispiness. Make sure to monitor the chicken to avoid burning.
Get more about this recipe here.
We understand that cooking for the family is fun but not everyone can handle the Christmas cleanup that follows after. Most of us would like to rest and spend time with our family.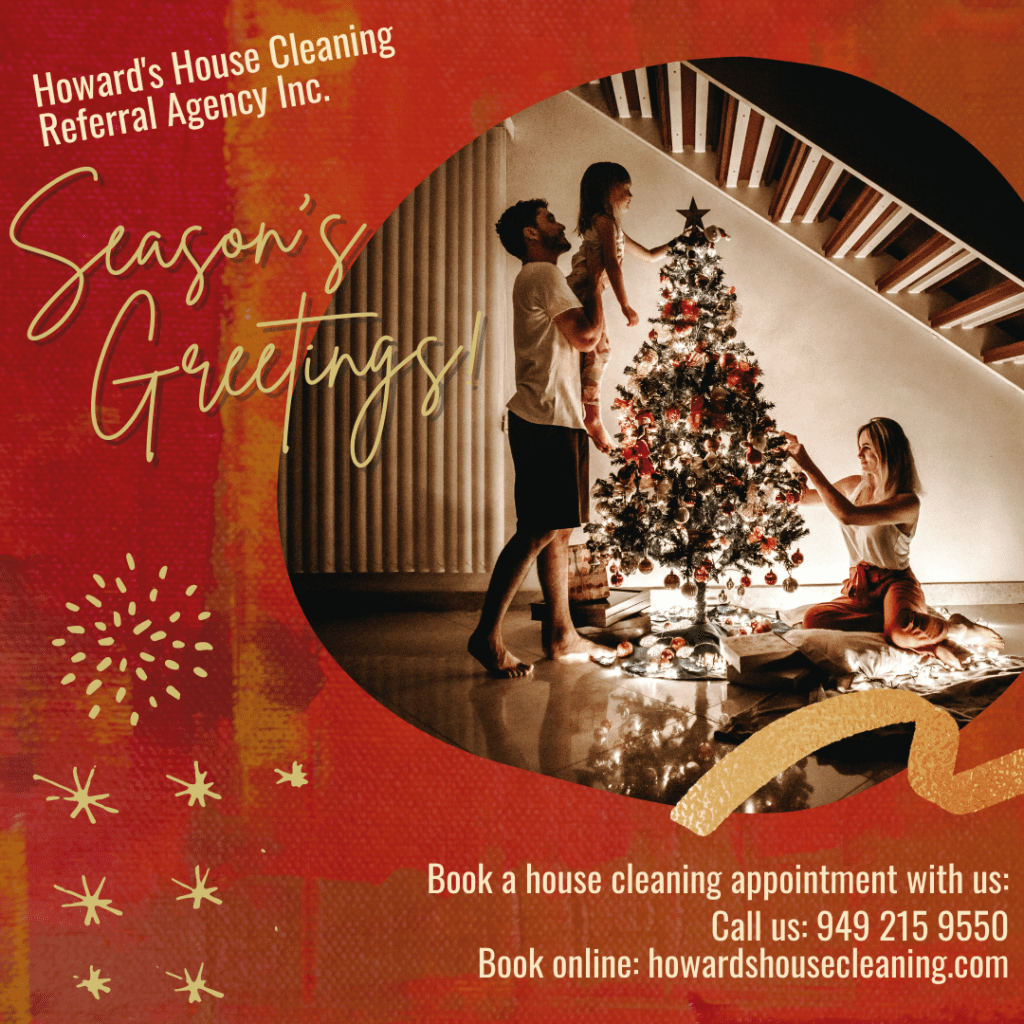 Howard's will make sure that you will get all the time you need!
With our flagship Maid Service, you can rest assured that Christmas will be stress and worry free. We can handle all the pre- and post-Christmas cleaning for you! We can adjust to your needs and schedule requirements as we offer weekly, bi-weekly, 3+ times per week, occasional cleanings, move-in/out, or one-time cleanings.  You can also rest assured that you will have a home that is cleaner than ever before as we take pride in our work. 
Testimonies from our House Cleaning Clients
Candice and Matt from Fullerton have used our services for a while now. They've been regulars ever since last Christmas where we helped them make their home perfect for Christmas. This is what Candice and Matt have to say about our service,
"Last Christmas was pretty standard. I was able to cook and setup our dinner get-together nicely. The following day was a little more problematic though as Matt and I had to rush over our friend's house and I couldn't just leave our home the way it was.
"So, I decided to find a cleaning service before we left and luckily Howard's was the first service I came across. I couldn't be happier as working with Howard's was quick and easy! I simply gave them a call and they set us up with their cleaning service. Howard's really got us out of a pinch. Their cleaning crew is professional and they made my home and kitchen look fresh. I couldn't recommend them enough. I would rate them 5 out of 5 stars."
We also refer more than housecleaning professionals. Call us for other home care needs too!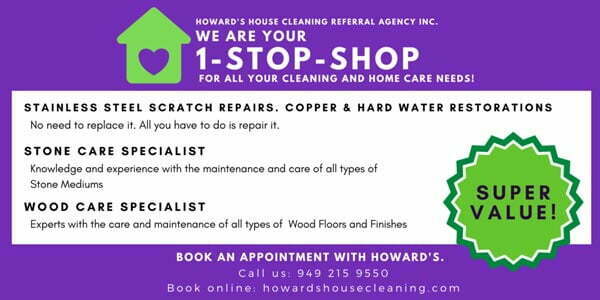 Howard's Spotlight
Aside from our flagship housecleaning Maid Services, Howard's is a 1-STOP-SHOP for home care! Take a look at our Home repairs and restoration services. With our experience and handiness, we're sure to tackle any home needs you may have.      
Home Repairs and Restoration Services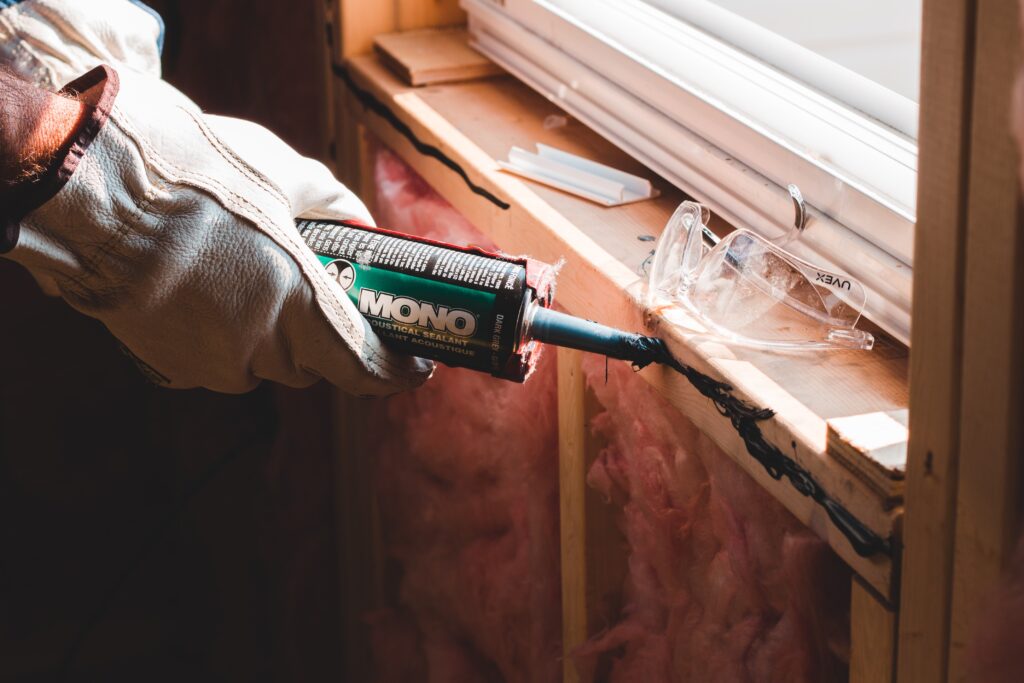 When something breaks, JUST CALL HOWARD'S
If something in your house breaks, we'll fix it.  We can refer a quality handyman who can save you valuable time and money.  Instead of spending more time and money looking for and replacing broken fixtures and household items, why not give us a call to help. 
Here at Howard's, we believe in a convenient 1-STOP-SHOP for your house care needs and most of all, we believe in doing things right!
Leave it to us to maintain your home and let it shine this Christmas.
We're Your "1-STOP-SHOP" for Home Care
Howard's House Cleaning Referral Agency is now your "1-STOP-SHOP" family of house cleaning and home care service providers. To sum up, here are the following referral services we offer: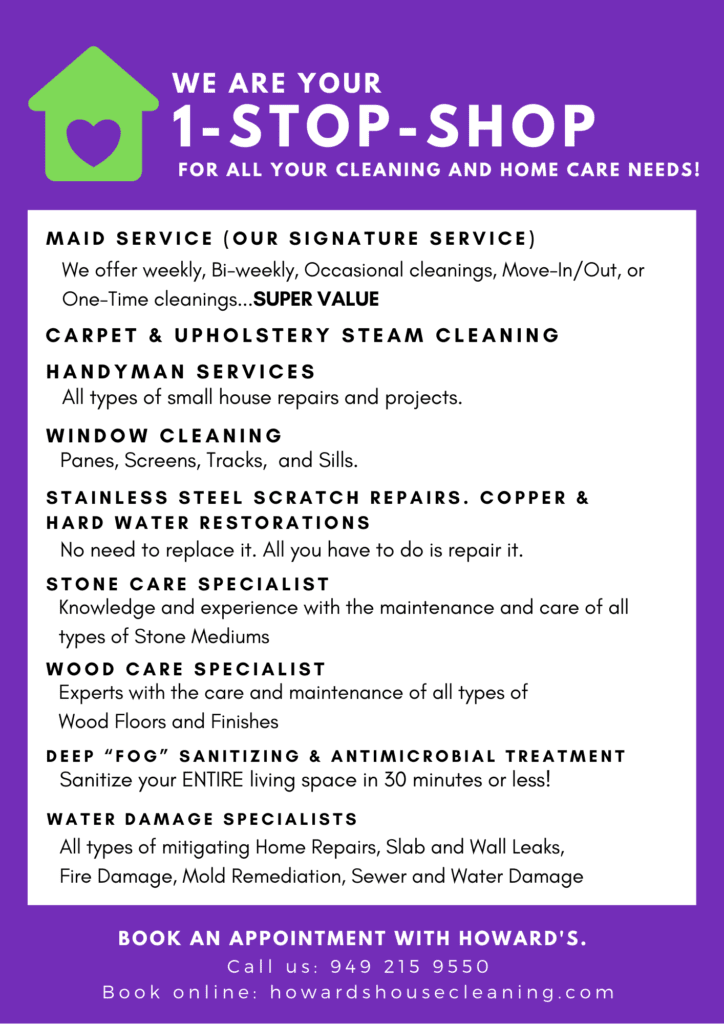 Do you want to know why we are the best housecleaning and home care referral service in Fullerton? See for yourself and book a cleaning appointment with us. Experience the best house cleaning referral agency in Orange County!
The Best Housecleaning Offer Just for You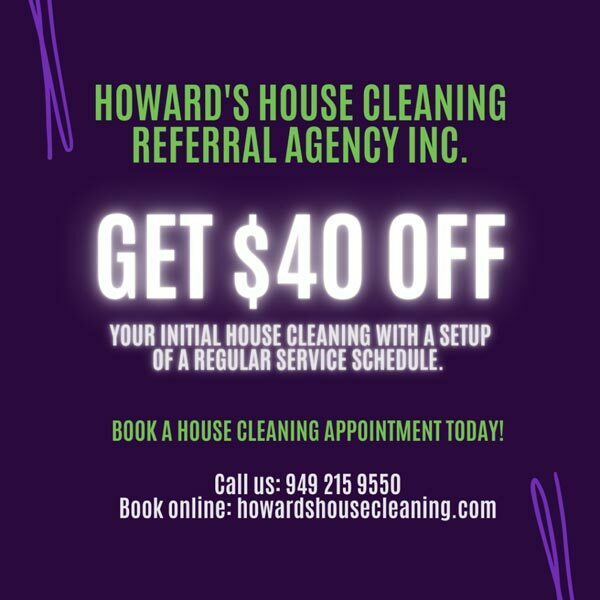 Last but not least, get $40 off your initial house cleaning when you set-up a regular service schedule with us. Call or book a house cleaning with Howard's today! Great offer! Howard's only refer top-quality home-cleaning professionals and maids (independent domestic workers) that are security-conscious, with wonderful personalities.
From our family to yours, Howard's wishes you a "Happy Holidays", a Merry Christmas and a prosperous New Year! We look forward to being with you again in the year 2021.