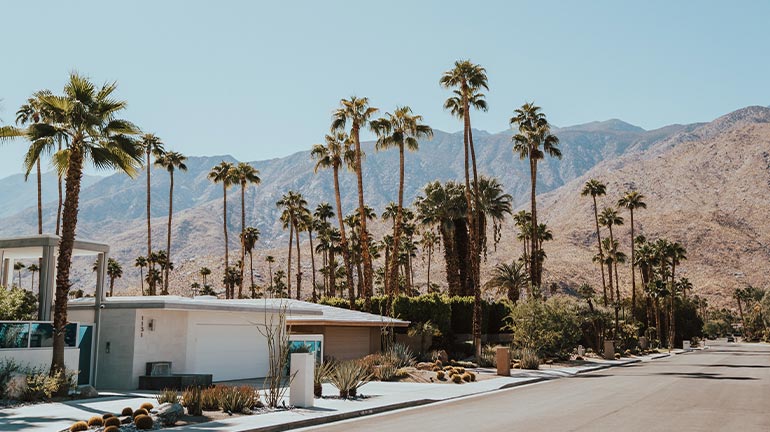 We provide house cleaning in Rancho Mirage fit for a President…
Rancho Mirage ("Mirage")… the "Playground of Presidents". It's impossible not to revel in the HUGE list of celebrities, luminaries and even Presidents who have lived in Rancho Mirage. Frank Sinatra and most of the "Rat Pack" (Sammy Davis Jr., Peter Lawford, Dean Martin), President Gerald Ford, Lucille Ball & Desi Arnaz, Perry Como, Bing Crosby, Barbara Boxer, Harpo, Gummo and Zeppo Marx, Johnny Bench, Ginger Rogers, Jack Benny… and the list goes on and on! 
And with a dozen world-class golf courses calling your name, who wants to spend even a moment cleaning their home or condo? That's where we come in! House cleaning refers the very best, fully-vetted house cleaning professionals who love making your home sparkle, while you go about loving life in Rancho Mirage! 
Howard's House Cleaning Referral Agency, Inc. is the top-rated source for house cleaning in Rancho Mirage and all of Southern California (and now, across the U.S.A.).
We're the top-rated maid referral agency in Southern California for a reason: we know what residents of Rancho Mirage expect from a house cleaning crew: professionalism, reliability, and security… and friendly personalities too! Our clients love us, and given the opportunity, we're sure you will too!
We're not like the rest of the house cleaning companies out there. We've been in business longer than most, and that has given us a unique perspective on how to deliver the very best service to our valued clients. That involves two very important things: (1) we offer highly flexible service options around your needs and your schedule, and (2) we match the perfect cleaning crew to meet your needs based on their experience.
First, we offer flexible service options — whether your need Daily, Weekly, Bi-Weekly, Monthly, or One-Time services, we can accommodate you! We begin by understanding your particular situation… do you entertain often? Do you have children? Pets? Any health conditions? Then, once we understand your needs, we match the ideal crew with the skill set and attention to detail needed to meet and exceed your expectations.
The top independent housecleaning professionals we refer to our clients must undergo extensive background and reference checks. And we don't stop there. We continue to monitor your satisfaction to ensure you're getting the best of the best — fit for a President (or celebrity)!  
We'll even arrange a live-in maid if you want!
We Want Your Business … We would love nothing more than the opportunity to earn your trust.
CALL TODAY:  Howard  949-215-9550
Rancho Mirage's best source of experienced professional independent maids... Excellence!
Howard's House Cleaning Referral Agency, Inc.