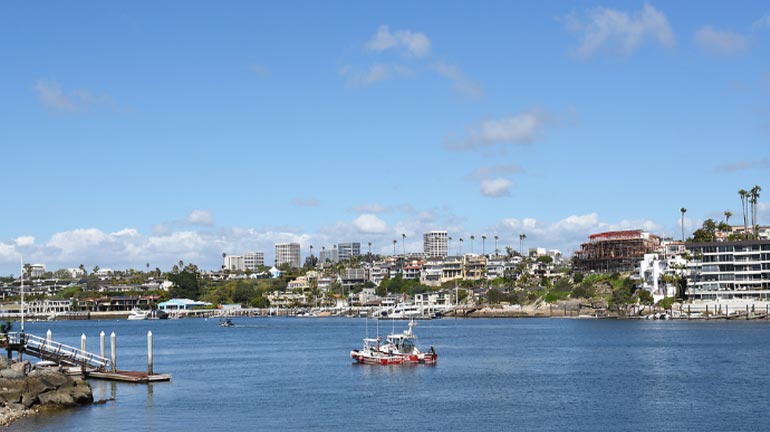 We provide house cleaning services for Newport Beach & Newport Coast…
We love Newport Beach! Fine hotels to fine dining, Fashion Island to Balboa Island, the best beaches and Newport Harbor… it's got everything good.
So when it comes to house cleaning in Newport Beach and Newport Coast, only the very best will do.
Howard's House Cleaning Referral Agency, Inc. is the best. Our clients consistently rate us FIVE STARS and we're recognized as the top rated cleaning service in Orange County.
We know that Newport Beach residents expect four things: personalized service, reliability, professionalism, and security — and we strive to deliver them all.
Our clients appreciate the fact that we thoroughly screen all the professionals we refer for cleaning services with extensive background and reference checks. We only refer those registered Independent Domestic Workers with the skills to handle your
specific
needs.
Professionals of this caliber are not easy to find. That's why we may not be the biggest house cleaning agency, but — as our clients will attest — we are the BEST.
Maids referred by Howard's House Cleaning Referral Agency can provide a wide range of cleaning jobs on a flexible schedule:
•
One-time cleanings.
Work such as garage clean-outs, whole-house cleanings for move-in or move-out, construction cleanup or cleaning for a special event are all easily handled as one-time cleanings.
•
Bi-weekly cleanings.
Unless a homeowner entertains frequently or has a large family, a bi-weekly cleaning is usually enough to keep a home running well with light dusting and spot-cleaning in between. Howard's House Cleaning Referral Agency can refer cleaning professionals who will exceed your expectations. With the help of the professional maids referred by Howard's, homeowners can create a schedule of cleaning that meets their precise needs, rotating bigger jobs in and out as necessary.
•
Weekly cleanings.
Have a large family? Entertain often? Don't have time for touch-ups between bi-weekly cleanings? Then a weekly cleaning is for you. We can even accommodate scheduling cleanings for multiple days each week. The frequency of weekly cleanings offsets the intensity of the job, often making for a more efficient option.
If you need house cleaning services in Newport Beach or Newport Coast, call Howard's House Cleaning Referral Agency, Inc. today — speak with Howard directly at 949-215-9550!
Newport Beach's best source of experienced professional independent maids... Excellence!
Howard's House Cleaning Referral Agency, Inc.