Participating in our community.... GIVING BACK !
Hand crochet & knitted caps for chemo patients and others facing life-threatening illnesses.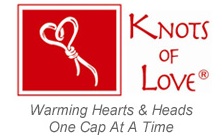 Knots of Love's primary goal is to brighten the lives of those in need with kindness and love. All Knots of Love creations are given free of charge to people who are battling cancer or other life-threatening illnesses or injuries. Making caps and brightening the lives of people who are suffering from the ravages of cancer is such a small thing to do, but the results have made a big impact on the patients. People of all ages are in need of love, kindness and support as they wage the fight of their lives.
Hats made by Gladys Schatan for Knots Of Love

Knots of Love brings together patients, volunteers and families. Their organization equally helps those making the caps and the patients who receive them. Knots of Love has grown beyond belief, thanks to donors and the legion of volunteers who spend their time and money to make the caps.
To learn more about Knots of Love, visit http://www.knotsoflove.org today!